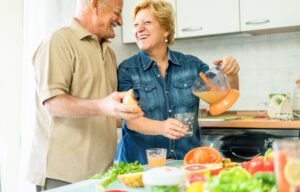 Date: February 24
Time: 16:00-17:00 hrs (login 15:55)
Location: Online

Registration is closed, but you can login via this link:
Join Zoom meeting
Passcode: 24022022 (= event date)

Imagine that elderly people received tailor-made care and nutritional advice with the help of innovative technology? 

Behavior scientists and data scientists from OnePlanet Research Center, nutritionists and SMEs are working together in the "INtoEAT" project to achieve just that! This integrated approach makes it possible to solve complex issues with a real eye for the needs of the end-users. Because the application is not just successful if the tech works.

Can it actually be used for the targeted audience? Is the advice understandable? Do people trust it? The applications must be user-friendly and it is important that healthcare providers can view relevant data for patients, taking into account the privacy and wishes of the user. What if we integrate technology and nutrition coaching into every-day products in elderly care facilities?

Together with Sander Hermsen (behavioral Scientist), Femke de Gooijer (project INtoEAT and smart tray) and Edgar Schwandt (INtoEAT: lifestyle app), we zoom further into the topics of eating, technology and behavior.

Sander explains some of the issues regarding the adaptation of technology and lifestyle changes. Femke introduces the INtoEAT smart tray! Edgar Schwandt gives us some more insights into how a targeted lifestyle app can help elderly in their preventive health issues and simultaneously shares his insights into how the collaboration is helping Salut to include tech solutions in their lifestyle supporting apps.

OnePlanet Research Center is a multidisciplinary collaboration between Wageningen University & Research (WUR), Radboud University, Radboudumc and nano-technology world-player imec.Three years into the collaboration, Director of Health, nutrition and behavior Thea van Kemenade, visits SMB to update us on their progress in the development of innovative tech for preventive health and their collaborations with SMEs in the region.

Program 
16:00 Short introduction by SMB
Thea van Kemenade (OnePlanet) on progress in the development of innovative tech for preventive health and their collaborations with
SMEs in the region
Sander Hermsen (OnePlanet) on motivational feedback for behavioral change
Femke de Gooijer (WUR) on INtoEAT: Smart tray
Edgar Schwandt (Salut) on INtoEAT: Salut Senior
17:00 Wrapping up

For those interested, we will conclude the event with the opportunity for online networking where you will be placed randomly in a Zoom room.

Online event
This event will be streamed online. A login link will be provided by email a few days before the event. The sender will be smb@radboudumc.nl, you might have to check your spam.

Good to know
Presentations are in English & the entrance is free (registration upfront is needed though). We welcome new guests, so please feel free to pass on this invitation to relevant people in your network!

We look forward to e-meet you!

The monthly meetings Science Meets Business aim to connect people and exchange knowledge in the world of science and business.