Date: May 25
Time: 13:30-17:00 hrs (doors open at 13:00)
Location: Meet&Greet, Building M, Noviotech Campus

Speeding up the development process
Development of new medicines is a lengthy and laborious process. The time it takes from initial discovery of a working molecule to treating a patient is more than 10 years and more than 2,5 billion dollars. Just the clinical phase takes up more than 7 years in this process. If you are lucky… This long development and approval process is not only extremely expensive but also leads to a much slower adaptation of new treatments.
At this moment there are a lot of new approaches to speeding up the development process of new drugs. From parallelization of development, AI to select the best candidates, organs on a chip or even detailed digital twins to calculate the effects of molecules on humans before they are really applied in reality.
The Molecule2Business 2023 event will dive into new approaches to speed up the process of bringing new pharmaceuticals to the market.
With keynotes from:
Nettie Buitelaar, director of Biotech Booster and Friso Smit, director of Oncode-PACT foundation. And parallel sessions on the state of art in the different stages of drug development (discovery, pre-clinical, and clinical).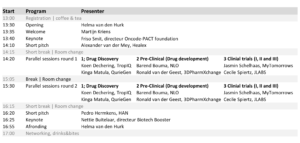 We look forward to meeting you on May 25.
Live event
This meeting is organised at Noviotech Campus in Nijmegen with networking, drinks & snacks afterwards.
Good to know
Presentations are in English & the entrance is free (registration upfront is needed though). We welcome new guests, so please feel free to pass on this invitation to relevant people in your network!

The monthly meetings Science Meets Business aim to connect people and exchange knowledge in the world of science and business.