Unfortunately, due to unforeseen circumstances, this meeting is canceled.
Date: September 22
Time: 13:30-17:00 hrs (doors open at 13:00)
Location: Meet&Greet, Building M, Novio Tech Campus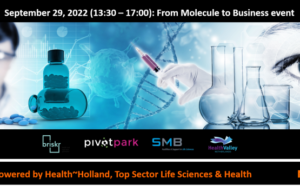 Speeding up the development process
Development of new medicines is a lengthy and laborious process. The time it takes from initial discovery of a working molecule to treating a patient is more than 10 years and more than 2,5 billion dollars. Just the clinical phase takes up more than 7 years in this process. If you are lucky… This long development and approval process is not only extremely expensive but also leads to a much slower adaptation of new treatments.
At this moment there are a lot of new approaches to speeding up the development process of new drugs. From parallelization of development, AI to select the best candidates, organs on a chip or even detailed digital twins to calculate the effects of molecules on humans before they are really applied in reality.
The Molecule2Business 2022 event will dive into new approaches to speed up the process of bringing new pharmaceuticals to the market.
With keynotes from:
Prof. Dr. Hub Zwart 
Hub Zwart is currently appointed as dean of Erasmus School of Philosophy. Hub Zwart studied philosophy (cum laude) and psychology (cum laude) at Radboud University Nijmegen, worked as research associate at the Centre for Bioethics in Maastricht (1988-1992) and defended his thesis in 1993 (cum laude). He was appointed as research director of the Centre for Ethics (Radboud University Nijmegen, 1992-2000) and in 2000 became full Professor / Chair of the Department of Philosophy at the Faculty of Science in Nijmegen. In 2018, he became Dean of ESPhil. Since 2013, he has been the chairman of the Ethical Advisory Board of the European Lead Factory.
Prof. Thijs Merkx
Prof. Thijs Merkx is chairman of the executive board of IKNL since December 2019 and professor of oral and maxillofacial oncology and oral medicine at Radboudumc since 2008. At Radboudumc, he was also chairman of the crisis policy team, chairman of the UMC Council and programme director for postgraduate education within the medical faculty. From 2013 to 2019 he was chairman of the Dutch Working Group on Head and Neck Tumors.
And parallel sessions on the state of art in the different stages of drugs development (discovery, pre-clinical, clinical and pharmacovigilance). More information / abstracts of the presentations will follow soon!
Be one of the first to register! We look forward to meeting you on September 29 at Novio Tech Campus in Nijmegen.
Live event
We expect the RIVM guidelines will allow us to host a physical meeting at Novio Tech Campus in Nijmegen with networking, drinks & snacks afterwards.
Good to know
Presentations are in English & the entrance is free (registration upfront is needed though). We welcome new guests, so please feel free to pass on this invitation to relevant people in your network!

The monthly meetings Science Meets Business aim to connect people and exchange knowledge in the world of science and business.