Date: April 22, 2021
Time: 13:30-17:00 hrs (login at 13:25)
Location: Online event

'You are what you eat' is a statement that originates from Brillat-Savarin in the year 1826. For a long time, however, the importance of food in relation to health and healthcare has received little attention. This is slowly changing and that is why we will discuss the importance of nutrition for health and care with researchers, entrepreneurs and other representatives of the healthcare and food sector during this year's Innoboot.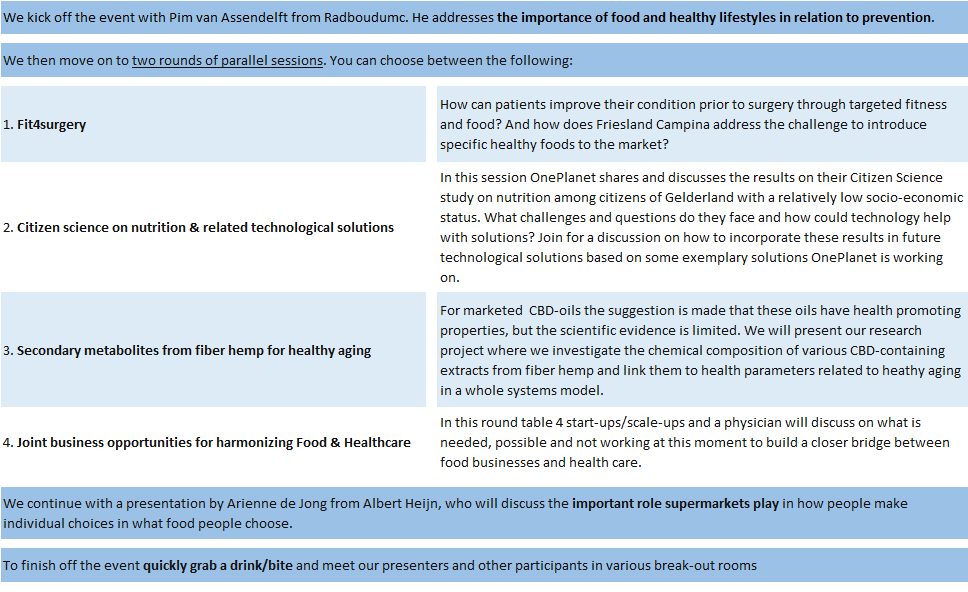 Click here for the full programme. And more information on the various presentations can be found here.

We look forward to e-meet you!

Team InnoBoot
BRISKR | Foodvalley NL | HAN | Radboud University | SMB



Registration is now closed, to join event:
Click here to join event
Passcode: 220421 (=event date)

Good to know
Participation in Innoboot is free (but registration is needed). Language during Innoboot is English. The login details will be sent to you one day prior to the event. We welcome new guests, so please feel free to pass on this invitation to relevant people in your network!

The monthly meetings Science Meets Business aim to connect people and exchange knowledge in the world of science and business.