Connecting you with key players in Health and Life Sciences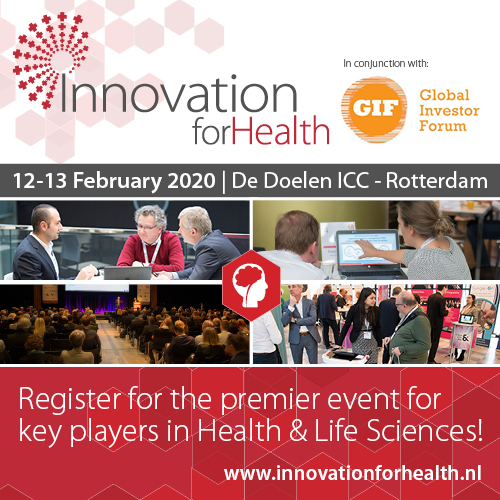 Innovation for Health is the premier conference for innovators in Health and Life Sciences in the Benelux. This is the place where key players in health and care, from bench to boardroom, from start-up to multinational, from Life Sciences to Medtech, come to strengthen existing contacts and to expand their networks and knowledge.
With more than 800 delegates, over 65 influential speakers, many one-on-one meetings, 30+ innovation pitches, poster presentations, an interactive expo and much more, Innovation for Health will be a great place to catch up on the latest trends, to exchange ideas with leading innovators, to identify new opportunities for collaboration and to get inspired by cutting-edge innovations and developments in healthcare & life sciences.
Innovation for Health is organised in conjunction with I4H Global Investor Forum and I4H Bootcamp, creating a powerful platform to meet healthcare innovators and investors and engage leaders and decision makers in Life Sciences & Health.
Entrepreneurs of healthtech and Life Sciences companies are invited to present their companies and their healthcare innovation on this leading conference. On 12 February you can pitch your company to the audience and on 13 February you can plan 1-on-1 meetings with various investors. For more information: https://www.innovationforhealth.nl
Conference:     Innovation for Health & Global Investor Forum
Dates:              12-13 February 2020
Location:          De Doelen ICC Rotterdam, The Netherlands
More info:        www.innovationforhealth.eu