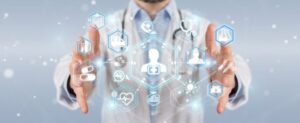 On October 27, 2020 we organized our annual Innoboot seminar. Goal of this yearly seminar is to connect research and education done at Radboud University, Radboudumc and HAN with innovative companies with a programme mixed for science as well as business. The theme for this year was Precision health care.
The explosion of digital data and intelligent algorithms leads to a new approach to healthcare in many disciplines. It helps us better identify the relation between DNA and diseases, it helps us identify what medication might help one person but harms another. It helps us find better medications in a shorter time through better predictions of succes rates. However, it also leads to new risks: algorithms that get feedback based on their own prediction, strengthening biases. Deep learning is based on correlations: so how do we keep understanding why a conclusion is valid, and how important is the 'why' if you have enough data.
Jos Oomens from Radboud University FELIX Lab talked about the use of the Felix electron laser. Much of Artificial intelligence starts with data. The Felix laser makes it possible to measure the exact structures of molecules and thereby enhancing information in diagnostics and therapeutics. We then proceeded with three parallel tracks of workshops:
One around precision oncology where Sophie Dusoswa from Roche talked about how data on DNA and advanced analytics helps us better target medications based on individual patient profiles.
One workshop by Sharon Kolk and Tjitske Kleefstra from Donders Institute who talked about the use of big DNA data in relation to rare genetic syndromes and the potential here for personalised healthcare.
And one workshop by Wilma Göttgens from Radboudumc who dealt with ethical questions that arise based on the use of these new algorithms and big data. Shouldn't this be a default design element in personalised healthcare from the start of the research on?
After the workshops we saw two pitches of startup companies in the forefront of using big data and smart algorithms to make healthcare more precise: Predica and Orikami. And the last part of the program was the final keynote by Paul Iske. As chairman of the Personalised Healthcare Alliance he made a call to action to work together from different disciplines to make personalised healthcare a reality benefitting for us all.
A seminar like this is a challenge in times of corona but we look back on an interesting afternoon! We would especially like to thank all the speakers and we hope to meet in real life as soon as possible!

Sponsored by:

Click here if you wish to subscribe to the newsletter from J&J Innovation