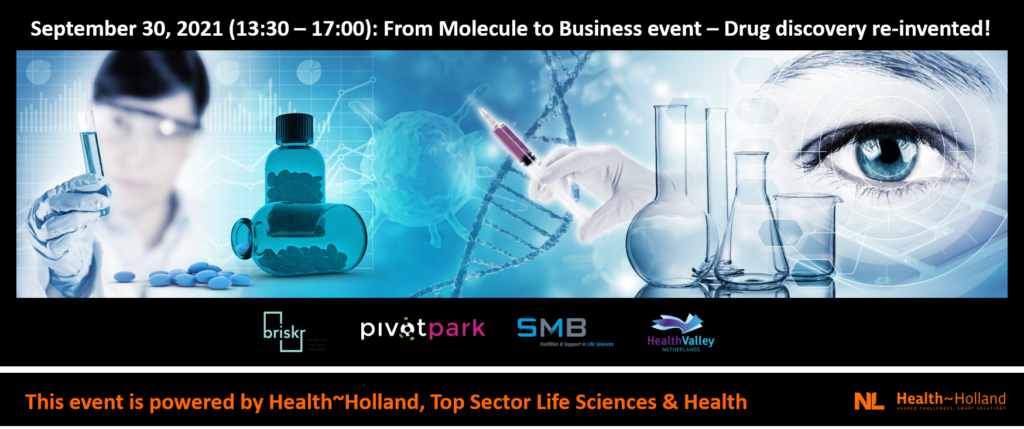 Date: September 30th, 2021
Time: 13:30-17:00 hrs (doors open at 13:00)
Location: Pivot Park, Oss

The Covid-pandemic has shown that the development of new techniques are important for drug discovery. A good example is the recent development of RNA-based vaccine. But every few years a fundamentally new technique will be on the market to improve discovery and development. In this years edition of the From Molecule to Business event we will discuss the re-invention of drug discovery
Chair: Christian van Munster (HCM Medical)

Key notes:
Anneke Post (ROCHE); Genomic profiling
Ruud Couwmans (Byondis); Antibody-Drug Conjugates: Guided Missiles in the Fight Against Cancer

Novel Techniques
During this round table discussion we will address the importance of new techniques like novel RNA techniques, Nano technologies and CRISPR Cas. These techniques increasingly allow us to design molecules with a pre-determined function & use instead of time consuming trial & error.

Host: Christian van Munster (HCM Medical).
Confirmed names: Rut Besseling (InProcessLSP), Sander van Asbeck (RIBOPRO) and Rick Wansink (Radboudumc)

Novel Technologies
Jos Oomen from HFML/FELIX will explain how with advanced technologies we are able to determine the precise structure of molecular structures of for example biomarkers and how this data can be used to optimise drugs discovery. Venture Challenge winner Fall 2019 BIMINI Biotech (Maurits van den Nieuwboer) will explain their novel approach to limit the growth of cancer cells.

Hybrid event
We expect the RIVM guidelines will allow us to host a physical meeting at Pivot Park in Oss with networking/drinks/snacks afterwards. The event will be streamed online as well. We will wait for the latest update from the upcoming press conference on September 20 and will contact you afterwards to check your preference (live/online).

Good to know
Presentations are in English & the entrance is free (registration upfront is needed though). We welcome new guests, so please feel free to pass on this invitation to relevant people in your network!

We look forward to meeting you!




This event is powered by Health~Holland, Top Sector Life Sciences & Health.

Registration is closed, but you can join the event online. Please click the link below:
Login link
Passcode: 30092021 (=event date)

The monthly meetings Science Meets Business aim to connect people and exchange knowledge in the world of science and business.